BUSINESS HOURS
Mon to Fri: 8AM - 4:00PM
Saturday: 8AM - 12 Noon
Sunday: CLOSED
Closed Public Holidays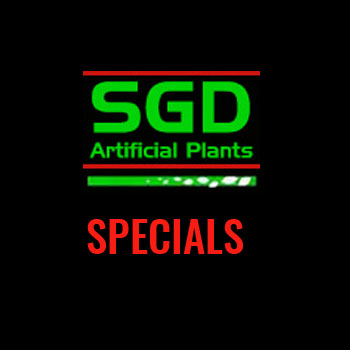 Frequently Asked Questions
Q When is payment taken from my account if I require delivery ?
A If delivery is required, not until you have accepted the delivery charge this is stated on the bottom of your invoice so you know you will not be out of pocket if you do not go ahead
Q. How do you clean them?
A. We have a product called Extreme Clean. Once every 6 months give your artificial plants and flowers a spray to restore lustre to your plants by lifting off built up dust and dirt. No need to wipe or rinse off it simply disappears.

Q. Can I put them outside?
A. Artificial Plants and Flowers are made of a silk polyester fabric or Plastic. They are primarilly used for indoor use however we have a product UV Protect which you can spray onto your silk plants and flowers which seals the material and give you a longer usage outside.

Q. Are they realistic looking?
A. Artificial Plants have been around a long time but have certainly altered over the years to look as realistic as possible, some to the touch even feel real.
Q. Can I purchase more than 1 of the same product?
A. We carry multiple quantities of the same product.
Q. Do you layby?
A. If you place an order but do not require delivery straight away we can certainly hold it for you until a preferred date.
Q. How long before I get my product?
A. This varies on the product to be made, however under normal circumstances once an order is received, confirmed and paid for we endeavour that you receive it within a week.

Q How tall are your products?
A The measurement is taken from the base (floor) to the tallest point of the product

Q Where is your showroom ?
A Our showroom & warehouse is based in Brisbane

Q Where do you deliver?
A We have an Australia Wide prompt delivery service

Q Are the photos on your website taken by your company and not copied from catalogues or another website?
A All photos of products are taken by us and are not copied or taken off any other site.

Q Do you have a return policy if we are not happy with your product ?
A All products come with a 7 day 100% Money back guarantee on the product, providing it is not damaged , less the freight. You also must arrange to have product packed and returned at your expense.

Q Do all your prices include GST & Delivery ?
A Prices on our website include GST (Unless you are a reseller). If delivery is required it is worked out by cubic measurement and we do our best to find the most user friendly way to freight.