Artificial Plants Australia
BUY DIRECT FROM THE IMPORTER & SAVE!
Australia's #1 Trusted Supplier | Family Owned
Delivery Australia Wide
Artificial Indoor Plants
Transform your home today. Everyone wants their home to look as welcoming and lively as possible, and often plants are a great way of doing this. However, busy schedules and hectic lifestyles can often get in the way of this, as many people simply don't have the time to take care of real plants. Fortunately, this problem is easily resolved with the realistic, high-quality fake plants and trees our company provides.
Artificial Plant Importers are a Brisbane based, family-owned business that sells top of the range artificial indoor plants with a larger range at more affordable prices compared to big name brands such as Kmart, Bunnings, Target, IKEA and Freedom.
Our showroom and warehouse is located in Woodridge on the south side of Brisbane, but we are able to ship our artificial plants Australia wide. No matter where you live in the Great Southern Land, we can help bring new life into your home
Our catalogue is extensive and offers a wide range of artificial flowers and plants for you to choose from. Shop online today or in-store to see why people all over Australia choose to transform their homes with our products!
Looking for Wholesale or Commercial solutions? We also do commercial designs and fit-outs for retail, office spaces, building greenery and more. Talk with our friendly customer service team who will help you find the perfect artificial plants and greenery you need for your next greenery project.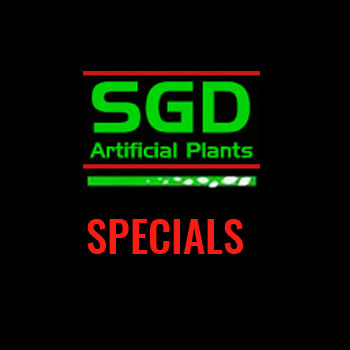 Artificial Outdoor Plants
When your tired of real plants dying in your gardens, pots & hanging baskets, then why not consider replacing them with artificial ones?
At SGD Artificial Plant Importers we have a range of UV Stabilised artificial plants that can be put outside. These plants have been specially treated during manufacture to withstand our harsh Aussie sun. We have also developed a UV Protect spray to give an added protection to your plants. It's an easy application with only 2 coats every 6 months needed for that extra peace of mind, it just makes good sense.
We have artificial plants of many styles, sizes & budgets to choose from including vertical garden green walls and our beautiful handcrafted hedges & media walls. Click on UV Treated Outdoor Artificial Plants today and enjoy scrolling through the many possibilities to vamp up & enhance your outdoor lifestyle!
Artificial Plant Maintenance Care
Shop for Artificial Plants or Contact us Today!
Do you want to give your home some pizazz with a bit of no-mess no-fuss greenery? Contact Artificial Plant Importers today on (07) 3208 7433 or come and get lost in our retail store and warehouse located at 5 Geonic Street, Woodridge, Brisbane to find the right fake plants and trees for your house or workplace. Talk to the experts in artificial plants.
SHOP ONLINE
CONTACT NOW!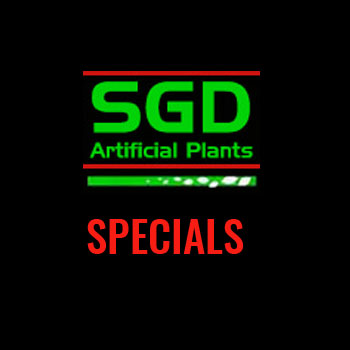 Your Satisfaction is our Commitment to you, which is why we offer your money back (less freight if applicable) if you're not fully satisfied. With over 25 years experience importing quality artificial plants, trees, flowers and more you can trust the quality of our products and customer service.
Australia Wide discount freight service to All Suburbs & Cities - Sunshine Coast, Gold Coast, Brisbane, QLD, Darwin NT, Perth WA, Melbourne VIC, Hobart TAS, Adelaide SA, Canberra ACT, Sydney NSW.
All are welcome to our Brisbane Showroom and Warehouse situated in a commercial area, where our friendly staff are available to talk to you about your requirements.
Before you buy artificial plants from Kmart, Bunnings, Target, IKEA and Freedom check out the range of fake plants, fake trees and more at SDG Artificial Plant Importers.
BUSINESS HOURS
Monday to Friday:
9:00AM - 4:00PM
Saturday:
8:00AM - 12:00PM
Sunday:
CLOSED
Closed Public Holidays