BUSINESS HOURS
Mon to Fri: 8AM - 4:00PM
Saturday: 8AM - 12 Noon
Sunday: CLOSED
Closed Public Holidays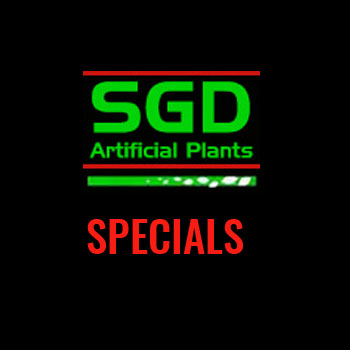 Real Touch Artificial Plants
Real Touch Plants That Are Just Like the Real Thing
A common misconception of artificial plants is that they do not feel real, creating a negative reputation for these products. Artificial plants have come a long way since the inferior plastic plants you may have seen in the past that are poor imitations of what nature offers. Real Touch Plants are so much like the real thing that when you touch them, you will have your friends and family wondering how your plants continue to look so lush and healthy. Artificial Plant Importers sell products that are not only botanically accurate, but the petals and leaves also have true-touch texture, meaning that no one will be able to tell the difference!
How artificial plants can improve your home or workplace
Nature has the uncanny ability to make people feel relaxed, and fortunately for you, even artificial plants are capable of this. Even just a hint of nature can brighten up your property, and now you can enjoy it without the worry of maintenance. Artificial Plant Importers offer a huge range of gorgeous real touch plants that have texture and leaf thickness that is incredibly detailed and lifelike. The various designs we have available mean that we can create a plant to complement the interior of your home.
Besides livening up your home, our real touch plants will make a great addition to your office space. Whether you are looking to brighten up your reception area, café, or workstations, having artificial plants around can really make a big difference in creating a positive atmosphere in your workplace, therefore hopefully increasing productivity too. These affordable products are a great way to improve your office space in an easy and cost-effective way.
Contact us
Are you looking for artificial plants that look and feel just like the real thing? Contact Artificial Plant Importers today on (07) 3208 7433 or visit our store located at 5 Geonic Street, Underwood, to view our wide range of real touch.