BUSINESS HOURS
Mon to Fri: 8AM - 4:00PM
Saturday: 8AM - 12 Noon
Sunday: CLOSED
Closed Public Holidays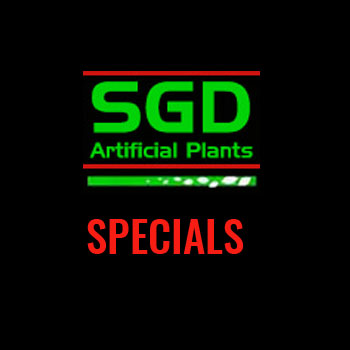 UV Stabilised Plants
Enjoy the Benefits of UV Treated Artificial Plants
Looking after plants can be time consuming and not always practical due to your busy schedule and lifestyle. However, you do not need to necessarily worry about watering your plants to keep them alive with UV treated artificial plants. You can decorate your property with these artificial plants that are designed to withstand the sun's strong rays and the weather.
UV treated artificial plants are amongst our best selling and most requested plant products. Our UV resistant formula help your product keep its lush colour in hot and sunny climates. This works wonderfully under UV light in offices, restaurants, hotels, shopping centres, and elsewhere. UV is designed to add two years of life to plants when placed outdoors, making them an ideal alternative to place in areas where real plants cannot thrive.
Ideal for enhancing outdoor gardens, and you do not have to worry about maintenance and they are more cost-effective than keeping real plants as well. If you run a business, they are suitable for commercial use as these can be used to make drab-looking places like parking lots more aesthetically pleasing.
Buy our UV protection spray for artificial plants
While artificial plants are designed to last longer and be easier to maintain than real plants, that does not mean they do not need any maintenance at all. They can be very troublesome to care for, due to their delicate nature, vibrant colours, and intricate designs. Artificial Plant Importers have a wide range of UV protection sprays for artificial plants that will keep them looking fresh and new with minimal effort and cost.
Artificial plants that get a significant amount of direct sunlight exposure will need to be protected by a UV protection spray for artificial plants. In addition to protecting plants from sun damage, these sprays will add long-term beauty to their look and help keep plants from bending or breaking too easily. They dry in mere minutes, leaving a matte finish and providing permanent, non-yellowing UV protection for your plants.
Contact us
Are you looking for fake shrubberies that are easy to maintain and do not wither due to sunlight? Contact Artificial Plant Importers on (07) 3208 7433 or visit our store located at 5 Geonic Street, Underwood, to view our great range of UV treated artificial plants.